[iNTERGAME]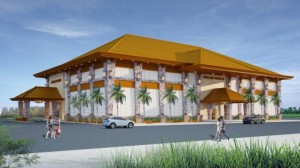 Entertainment Gaming Asia will complete its casino development in the Pailin province of Cambodia in the second quarter of this year, the company has confirmed.
The initial $2.4m phase of the project, which is located close to the border with Thailand, will consist of a casino – Dreamworld Casino Pailin – with approximately 23 table games and 40 electronic gaming machine seats.
The Dreamworld Casino is one of the company's first casino development projects and forms part of its strategy to expand its gaming operations beyond providing gaming machines on a participation basis and become a leading owner and operator of gaming facilities.
"We are pleased with our progress to date on this exciting casino project, which we believe is strategically located in the attractive and growing gaming market of Pailin at the Thailand border," said chairman and CEO Clarence Chung. "This project is an incremental step in our casino development strategy and offers the potential for near-term earnings and long-term growth." Entertainment Gaming Asia, formally Elixir Gaming, has secured two additional casino projects in Cambodia located near the border with Vietnam in the provinces of
Kampot
and Takeo.