[Business-in-Asia.com]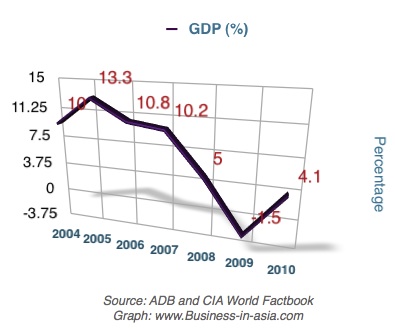 Cambodia could outgrow Least Developed Country (LDC) status by the end of this decade, said Mr. Cheick Sidi Diarra, the LDC Undersecretary-general for the UN, recently at the UN conference on Least Developed Countries, held every 10 years to assess countries' social and economic development, reported Phnom Penh Post. Mr. Diarra cited Cambodia's agricultural and strong textile sectors, developed human resources and vast human capital, plus Asean's coming economic integration in 2015 as reasons for the expected growth.
World Bank figures show Cambodia's economy in 2011 will grow by 6.5%, climbing to 6.8% in 2012; while Boomberg said Cambodia's economy is set to expand by at least 8% this year as an increase in tourist arrivals and rice exports offsets higher energy and commodity prices. According to the Phnom Penh Post, the country's annual gross domestic product growth should reach 7% to 8%.
1. Industries
Among the country's stronger sectors-agricultural and textile; Banking and telecommunications, and possibly services will continue to remain attractive for foreign investors, said Mr. Diarra.
-
Textile:
see our article "
Cambodian Garment and Textile Industry
".
-
Rice:
Cambodia has set a goal of exporting one million tonnes of rice by 2015, said Hang Chuon Naron, Secretary of State for the Ministry of Economy and Finance, reported the Phnom Penh Post. The government hopes for $350 million in capital by 2015 to be able to buy, dry and mill rice for international sale.
Cambodia will need this investment because much of the country's surplus paddy is sold to Thailand and Vietnam, the world's two largest exporters respectively; and most Cambodian farmers still lack the capital to properly store rice for extended periods, let alone add value using drying and milling machines that international buyers usually demand. Some of these problems are being addressed, however through The Japan International Cooperation Agency's funding of $4.4 million to help improve agricultural techniques around Tonle Sap Lake, where many rice farmers are located. Also, recently, the World Bank and the government pledged to guarantee 50% of loans to the sector by commercial banks.
-
Telecommunication:
Royal Group, subsidiary Royal Blue Skies which holds the concession from the Ministry of Posts and Telecommunications, has received a concession to launch Cambodia's first satellite into orbit, creating what the company sees as another integral step forward for the Asean economy, reported the Phnom Penh Post. Cambodian Satellite 1 is set to be launched in the first quarter of 2013, costing between US$250 million and $350 million. The company plans to first sell services in Cambodia, followed by Indonesia, Thailand, Vietnam, Malaysia and other Asean nations, said its officer. With Thailand and Vietnam having their own satellites and Laos intending to launch one, Cambodia is also plans for improvement in their telecommunication.
2 . Burgeoning Human Resources
According to the CIA World Factbook, Cambodia has a populations of 14,701,717 (July 2011 est.) with age structure of 32.2% are age 0-14 years old; 64.1% are age 15-64 years old; and 3.8% at age 65 years old and over. This is considered a very young population and vast human capital, which Mr. Diarra of the UN's LDC said would contribute to the country's economic growth.
3. Trade with other Asian Countries
Mr. Diarra also predicted Asean's goal of opening economic borders within the region would offer numerous benefits to Cambodia. That integration extends markets and allows for the exchange of capital and information, while also reducing product prices and trading expenses, he said.
-
China:
According to China Daily, China is Cambodia's biggest source of foreign direct investment (FDI). China plans to spend $8 billion in 360 projects in the first seven months of 2011— the same amount it invested in the whole of Southeast Asia in 2008.
China is also Cambodia's largest source of foreign aid, providing about $600 million in 2007 and $260 million in 2008. Trade with China climbed 42.1% in 2010 to $1.12 billion. During Hun Sen's visit last year to Beijing, China promised a $300 million loan to build two national roads and an irrigation project. Other deals worth around $293 million, mostly infrastructure-related, were also agreed. The Chinese have so far invested just over $1 billion in Cambodia, a figure dwarfed by huge investment pledges over the next five years. This includes a 10-hectare port terminal that is being built in Cambodia's Kandal province, by a Shanghai Construction Company under a Chinese government loan of $28.2 million.
-
Vietnam:
On April 23, 2011 Vietnam's Prime Minister Nguyen Tan Dung visited Phnom Penh for an annual investment conference and talked to the Cambodia government about almost US$900 million in new project agreements, reported Vietnam News. Trade between Cambodia and Vietnam climbed close to 50% in the first quarter 2011 as compared to the same period in 2010; to $644.3 million. In the past year, interest in Cambodia from Vietnamese businesspeople was mainly on the country's agricultural sector; however there is a recent rise in the number of large Vietnamese companies that have entered key sectors in Cambodia including telecommunications and aviation and have quickly overtaken Thailand-based firms.
-
Thailand:
Although Thailand remains Cambodia's biggest trading partner with $2.54 billion last year, the border politics caused damages to Thai businesses, according to the Bangkok Post newspaper.
Thaicom's mobile phone subsidiary Mfone has fared worse than most Thailand-based companies operating in Cambodia – it reported its losses reaching 405 million baht in 2010. It was the biggest mobile provider by users in the country. In Cambodia's crowded mobile phone market, Mfone has seen its position in the sector quickly overtaken by Viettel, owned by the Vietnamese military. Viettel launched in Cambodia in early 2009 after distributing about half a million SIM cards, many of which the company offered for free to government and military officials.
Thai Airways reported a 1% fall in passengers last month between Phnom Penh and Bangkok due to cancellations by concerned passengers. But worse than that in mid-2009, Bangkok Airways lost its license to fly Cambodia's only domestic route between Phnom Penh and Sihanoukville following the launch of Cambodia Angkor Air, reportedly a joint-venture between the Cambodian government and Vietnam Airlines, said the Bangkok Post. Reports in recent months have also suggested the Cambodian government is also planning to break the Bangkok Airways monopoly on the route between Bangkok and Siem Reap by allowing competition from Cambodia Angkor Air.
Khon Kaen Sugar Industry Plc (KSL), which started operating a US$100 million sugarcane mill and 20,000-hectare plantation in Cambodia's southwestern Koh Kong province in January of 2010 cited low yields, a lack of both skilled and unskilled labor and tax issues in announcing a loss of 84 million baht for the operation in 2010, reported the paper.
However, some Thai companies have fared better. For example, PTT, which sells fuel and other oil products in the country, has recently renovated a number of gas stations in Cambodia said Bin Many Mialia, the company's marketing division manager in Phnom Penh to the Bangkok Post. Siam Cement Group (SCG), Thailand's biggest industrial conglomerate, has steadily expanded its business in Cambodia after 18 years in the country and now jointly runs a cement plant as a majority stakeholder in the joint-venture Kampot Cement and sells agricultural products, batteries and tires through local subsidiaries. SCG also operates recycling centers in Phnom Penh and Poipet just across the border.
-
Japan:
Japanese investment is growing in Cambodia, with nine companies starting businesses in the country in the first five months of 2011, according to investment statistics provided by the Japan International Cooperation Agency(JICA). The nine Japanese companies, mostly manufacturers, will invest $142 million and another 14 other companies are applying for the Cambodian government approvals. In 2010, there were only six Japanese companies applied for and got approval for investments, reported Kyodo News. Since the early 1990s, Japan has been the largest donor-country to Cambodia, if not the biggest direct investor.
Yuji Imamura, a JICA expert who is also an advisor to the Cambodian Investment Board/Council for the Development of Cambodia said political stability, low labor costs, labor-intensive export processing and domestic market import substitution are attractive factors for Japanese investors.
When compared to investors from China and South Korea, Japanese direct investors are considered small, late comers, but Japanese investors emphasize on manufacturing such as electrics, home appliances, garments, sports and medical goods and automotive parts; while Chinese and South Korean investors have mostly focused on energy, real estate and construction. Although much Japanese foreign investment in Asia has been in China, Malaysia, Thailand and other more developed countries, Imamura told the paper that Japanese manufacturers now need to find "new locations to survive and Cambodia is one of the promising countries."
Among Japanese manufacturers already in Cambodia are Yamaha Motor Co., Suzuki Motor Corp., Ajinomoto Co. and Sumitomo Wiring Systems Ltd. and assemblers such as Sony Corp., Nikon Corp., Olympus Corp., Minebea Co. and Brother Industries Ltd. are also interested in investing in Cambodia.
Challenges still exist
Still, Cambodia faces issues that could impede its development goals, such as, according to the newspapers' sources:
Lacking access to finance along with the necessary infrastructure.
Electricity prices three times higher than those in Thailand.
Weak government oversight and arbitration
The country's still-developing regulatory framework
Low consumer demand
Lack of job skills
Corruption in both the public and private sectors. Cambodia was ranked 154th out of 178 countries in Transparency International's graft perception index in 2010, the second-worst showing in Asean after Burma. (see our article: "Corruption in Asia" link at http://www.business-in-asia.com/asia/corruption_in_asia.html)
Despite these myriad challenges many business opportunities exist in Cambodia following three decades of almost uninterrupted economic growth. Membership in the World Trade Organization and Asean Free Trade Area would further boost confidence and lead to structural reforms in the economy. Although due diligence must be performed, Cambodia offers opportunities for the right projects.