[BUSINESS 360]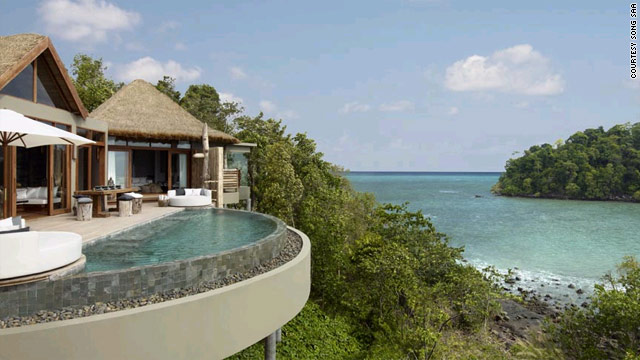 (CNN)
– You're starting your holiday and you get on a chartered plane that brings you to a private island. Then you check into your private villa with an endless view of the ocean. If you choose, your only visitor can be the gourmet chef who comes over to cook your meals every day. This is not the Seychelles. This is Cambodia.
That's the vision Rory and Melita Hunter have for anyone dreaming of the ultimate luxury experience. They plan to open Song Saa resort on December 31. It will be the first luxury resort on a private island in Cambodia.
The construction of 27 one- and two-bedroom villas are near completion. They will cost upwards of $2,000 per night.
"In many respects, it's an out of body experience," says Rory Hunter, referring to the ongoing construction. "You dream about something for a long time and you plan for it for such a long time."
The Hunters' story goes back six years.
Rory is a former advertising executive and Melita is a former set designer. Originally from Australia, they came to Phnom Penh and set up a business renovating old French colonial apartments and leasing them to expats. They never planned to become developers until they stumbled upon two small islands in southern Cambodia while on an excursion. The islands are called Song Saa which means "Sweethearts" in Khmer.
They bought the local land rights to the islands for $15,000 from two families living there. The Hunters knew they didn't really "own" the islands because in Cambodia, foreigners are not able to own land outright. They negotiated with the Cambodian government to lease the islands for 99 years.
The Hunters then started their plan of developing a high-end villa resort. They put in $370,000 of their own money as seed capital. They've since raised several rounds of financing from mainly European investors for this $21 million project.
The offer
In order to raise capital and lay the foundation for future revenue, the Hunters put the villas on the market. They are priced between $600,000 to $1.75 million. Owners are allowed to use the villa for one month every year and must make it available for rental the rest of the year. The owners are promised an 8% return of the purchase price for five years and then 50% of revenues after that.
They've pre-sold the majority of the villas to investors including Dare Koslow of Hong Kong. He saw a magazine ad for the villas and started to research the project. He acknowledges he's not the savviest of investors. "Whenever I invest in a financial instrument like stocks, I always lose, but with real estate, I'm quite successful. I liked the idea it was a tangible asset," Koslow says.
Risk factor
Cambodia is in the early stages of developing a legal framework for real estate and investment law.
"We are still an emerging economy," says Bretton Sciaroni, an American legal adviser and business consultant based in Phnom Penh. "We still have a long way to go. The Cambodian government is dedicated to building a modern economy with modern laws... but just getting laws down doesn't mean the laws are being implemented."
The government is pro-business. Foreigners can own 100% of their business in Cambodia and there are no capital controls on money coming into or leaving the country. The government has also recently passed a law allowing foreigners to own 100% of an apartment as long as it's above the ground floor.
The reality remains: there's a high level of risk for investors in any developing country.
"They're right to be concerned. In any property transaction anywhere in the world, due diligence is such an important component," says Rory Hunter. "The first thing we always say to potential investors is, 'Here's the documentation. Get your lawyers to review it independently.' "
Will wealthy guests come?
The big gamble is whether there is a customer base for a resort like Song Saa . Will the wealthy client want to come to a country where 28% of the population lives on a dollar a day. That's why tourism in Cambodia has been a budget traveler's dream. (A tourist can easily get by on less than $10 a day for meals and tuk tuk rides in Phnom Penh).
This is the gamble the Hunters are taking. They're making a bet - global downturn or not - that there will always be a segment of the wealthy who are rich enough and adventurous enough to spend $2,000 per night in an unproven country.
"Travelers who are looking for a sense of adventure and a story, Cambodia is a pretty great place to go," says Hunter.