[GUARDIAN.CO.UK]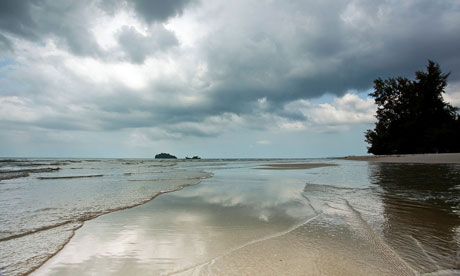 Cambodia must get a fair deal for its natural resources, and the revenues should go towards improving the lives of its people.
Emerging from genocide and decades of civil war,
Cambodia
's discovery of
oil
raised hopes of faster development for the country – but also fears that the "resource curse" might strike again.
Oil production will come on line next year and local campaigners are racing to prevent Cambodia going the same way as countries such as Nigeria, where the industry has fuelled corruption and environmental catastrophe.
Things got off to a bad start, according to
Global Witness
. In 2009
it reported that oil exploration licences
had been granted largely in secret, while the mining sites it investigated were all owned by the country's political and military elite. Since then, the public has not been consulted about the drafting of new laws governing extraction of natural resources.
Perhaps the lack of democratic values isn't surprising in a country where the prime minister has been in power for almost three decades. But despite the difficulties, grassroots organisations are pushing for Cambodia's oil to be managed in ways that allow citizens to see what the government does with the resulting revenues – and to hold it and oil companies accountable for their actions.
As the organisation
Cambodians for Resource Revenue Transparency (CRRT)
has said: "Open public discussion and access to information will help citizens of Cambodia to have access to processes of the company and financial information, and this will enable them to meaningfully participate in the debate on how revenues should be used and the types of development projects that matter to their lives."
There is some cause for hope – for instance, the ministry of economics and finance's disclosure on its website of information about the rental income it receives from the extractive industries for land usage. CRRT has called the move "a significant step in the right direction".
NGOs have also cautiously welcomed the government's attempt to require officials to reveal their own financial assets, a step that would significantly limit the scope for corruption. Whether this information will be independently audited and how it will be made public are as yet unanswered questions.
Of course, corruption is not just about officials accepting bribes – it also involves those paying them. A clause in America's recent Dodd-Frank Act requires all US-listed oil, gas and minerals companies to publish their payments to governments around the world, following intense pressure from the
Publish What You Pay
coalition.
This kind of transparency would help Cambodians to hold their politicians to account, and make it harder for outsiders to buy off political elites.
But there are other ways to loot a country of its resources, which remain open to rich and powerful global players. Christian Aid estimates that tax dodging by multinational companies costs developing countries around $160bn (£99bn) a year.
A
UNDP report
last month found that illicit financial outflows from Cambodia related to trade mispricing amounted to $406m over the three years from 1999 to 2001. International groups with powerful teams of accountants and lawyers can easily shift profits into tax havens, at the expense of under-resourced tax authorities in poor countries.
One company accused of moving profits out of developing countries is
commodities giant Glencore and its Zambian subsidiary Mopani Copper Mines
. An unpublished audit report accused Mopani of shifting profits out of Zambia and into low-tax Switzerland, where
Glencore
is based.
Glencore denies the allegations and has said it will consider revealing its tax payments in the countries where it operates. But if corporate transparency is to be anything more than a PR exercise, such reporting must be mandatory and standardised. Only then will countries like Zambia and Cambodia be able to get a fair deal for their natural resources.
The EU is currently considering legislation similar to America's "publish what you pay law", but this would not capture the kinds of tax abuse alleged in the Glencore case. To uncover
tax avoidance
, the EU must require companies to publish not just their payments to governments, but financial information like profits, sales and costs on a country-by-country basis.
Another opportunity for the international community to challenge financial secrecy will be at the G20 meeting in November. A commitment to
country-by-country
reporting for the extractives sector, along with
pressure on tax havens
to share information with other countries, would make corruption and tax dodging much more difficult.
Cambodia currently depends on aid for around half of its national budget but natural resources such as oil could be the basis for the country to take charge of its development and improve the lives of its people. For that potential to be realised, though, governments must throw light into the shadows where corruption and tax avoidance can thrive.