[GUARDIAN.CO.UK]
Poor working conditions blamed after 300 workers fall ill at Phnom Penh factory, following earlier case involving 800 people.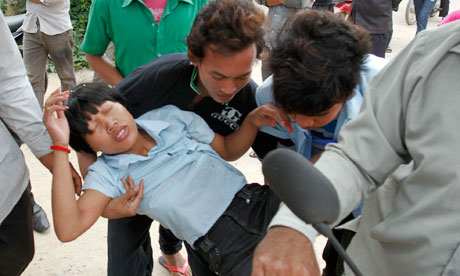 Three hundred garment workers have fallen ill this week at a factory in Cambodia's capital, Phnom Penh – the latest outbreak of "mass fainting", blamed on poor working conditions in the country.
About 200 female garment workers at King Fashion Garment became sick on Wednesday afternoon, followed by another 100 people on Thursday morning, said the district police chief Born Sam Ath.
"A committee has not yet settled on one particular cause but the workers' health is not good. They don't eat enough and the workplace is stuffy," he said.
In April, the Cambodian authorities opened an investigation into another case of mass fainting, involving about 800 workers at two garment factories.
Born Sam Ath said chemical odours and bad drinking water may have been behind the latest incident. The factory, which employs around 2,000 people, stopped work for one afternoon to allow an investigation.
Workers told Reuters they suspected the problems stemmed from bad water and the smell given off by some cotton.
"We have had a bad smell inside the factory for two days. We drank water and then we were poisoned," said Chhorm Sokry, 24, speaking from inside an ambulance.
Another worker, Uon Thim, 26, said the heat inside the factory also played a part.
Garment manufacturing is Cambodia's third-biggest currency earner after agriculture and tourism, employing more than 300,000 people.
Many western high-street brands source clothing from Cambodia and are under pressure from international labour activists to ensure suppliers provide decent working conditions.